"On the Recent Growth of New Amish Settlements"
A public lecture by Joseph F. Donnermeyer, Prof. of Rural Sociology, Ohio State University and Cory Anderson, Ph.D. Student, Rural Sociology, Ohio State University
Tuesday – March 20, 2012, 7:00 pm
Goshen College, Newcomer Center 19
During the past 20 years the
Old Order Amish population has doubled in size; during that same
period the Amish established settlements in nearly 170 new
counties. Today more than half of all Amish settlements are less
than two decades old. Donnermeyer's lecture will track the pattern
of these new settlements and describe the critical economic, social
and religious elements that will determine whether or not the new
community is likely to be successful. 
"Journeying on the Zwieback Trail: Stories from the Russian Mennonite Heritage"

Mennonite Historical Society Spring Banquet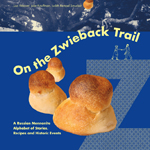 Thursday – April 19, 2012
6:00 pm Dinner (featuring Russian Mennonite foods)
7:00 pm Presentation by Lisa Weaver, author of On the Zwieback Trail
Berkey Avenue Mennonite Fellowship
2509 Berkey Avenue, Goshen
On the Zwieback Trail is an alphabet book designed to be accessible
to children but inviting to adults as well. Each letter is devoted
to a different aspect of Russian Mennonite history. Pages include
stories of life in the Mennonite settlements in Russia, the
founding of Mennonite Central Committee, and the role of
nonviolence in the Russian Mennonite tradition. Favorite recipes,
unique artifacts, maps and historical photos combine to create
visual and text collages. Weaver's presentation will include
stories from the book as well as stories of how the book was
created.
Suggested donation is $25/plate. For
reservations contact John D. Roth at 574-535-7433 or
johndr// @goshen.edu before April 16.
Books will also be available for purchase at the
event.
2013 CALENDAR
for Illinois Mennonite Heritage Center
and Illinois Mennonite Historical and Genealogical Society
IMHC Hours
The Illinois Mennonite Heritage Center opens for the 2013 season on Friday, April 5th.
Regular Open Hours –
Fridays & Saturdays, 10:00 a.m.-4:00 p.m.; Sundays 1:30-4:30 p.m.
To schedule a tour for another time, contact us at 309-367-2551 or imhc@mtco.com.
**********************************************************************
2013 Museum Gallery Exhibits
Corn Planters
This exhibit includes more than 100 hand corn planters plus husking pegs and related equipment used by pioneers. From the collection of Ted Sommer.
******
Church Exhibits

The 2013 featured churches will be: Cazenovia Mennonite Church and Mennonite Church of Normal
****************************************************************
Events
Friday, March 15 and Saturday, March 16 at the
beginning at the Illinois Mennonite Heritage Center
Greater Midwest Foodways Alliance Pennsylvania Dutch Foods and Foodways in the Midwest: The 55th Annual Illinois Mennonite Relief Sale and Anabaptist Culinary Traditions
For more information Greater Midwest Foodways Alliance
Telephone: 312-380-1665
Website: www.GreaterMidwestFoodways.com/
2013 Spring Program
Saturday, April 27, 2013, 10:00 a.m.
Speaker: James L. Fyke
Topic: "Effects of the Frontier on American Character"